Media
Speaker, Facilitator, Presenter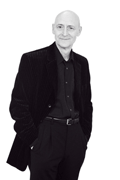 Before attending the University of Manchester as a 'mature' student at the age of 25, Ian Anderson worked as a professional actor, gaining an impressive list of stage, television, and film credits. In 1980 having gained his doctorate and arriving at one of those 'life transition' points himself, Ian Anderson taught acting for a year at Rose Bruford College before embarking on his career as a Psychologist.
When asked why he gave up acting, Ian often replies: "What gave you the impression I did that?" He credits his international success as a Facilitator, Speaker, and Presenter to these early years of training and experience, in addition to his later education, research, qualifications, training, and professional experience.
---
Contact us to discuss Dr. Anderson's availability.
---
Recent Print and Television Credits
Social Work Today ( USA )
East Bay Business Times ( USA )
El Diario (Brazil)
Fortune Magazine ( USA )
Scripps Howard News Service
BBC Panorama 'One Click From Capture' 21 May 2008: On camera interview
BBC3 Fantasy Career 15, 16, 19 January 2005: Onscreen Expert
---
Contact us to discuss Dr. Anderson's availability for media events.
---